Sense and Sensibility-by Jane Austen
356 pages (1811)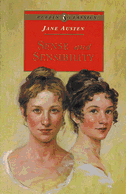 The truth is...and heaven help me...I cannot esteem it as well as I should like.
It can't be explained in entirety, but I find the novel noticeably lack-luster after reading Austen's other outstanding novels. A plethora of secondary characters and sub-plots choke out a lot of the brilliance of its main characters. This is a rather surprising realization for me, being an avid Austen fan - but it is spoken with all honesty. Nevertheless, even though it is not Austen's best written work, it is still a very amiable novel and a nice light read for any classics buff.
I'm sure I'll never forgive myself for the following suggestion (as it's truly a once-in-a-lifetime scenario): Do yourself a favor and rent Ang Lee's adaptation of this beautiful story, and skip the book. Lee skims off the unnecessary details and redundant characters and exposes the creme de la creme of Austen's "sensibilities".